No matter how big your business is, you most certainly experience one problem — people come to your website and leave without buying anything. Before you question such behaviour, think about your own shopping habits.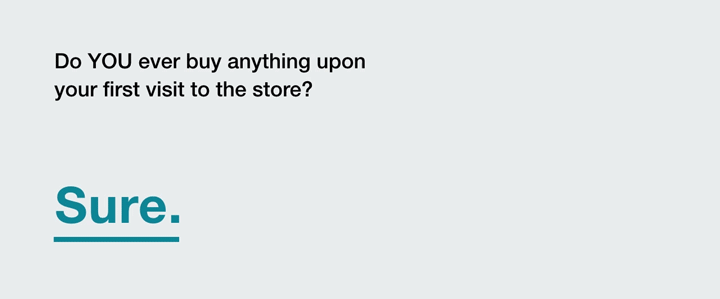 You need time to walk around, compare the prices and maybe even find the money for the purchase you are planning. Well, so do more than 95% of your website visitors. This, however, doesn't mean that you cannot help your customers to make the right decision. That's what RetargetApp is for.
What is RetargetApp?
RetargetApp is a Shopify app with a very simple mission:  we want to make retargeting easy and efficient. RetargetApp helps you re-engage your website visitors who didn't make a purchase upon their first visit with Dynamic Product Ads. Retargeting ads made with help of RetargetApp solve a seemingly eternal problem of customers leaving your website without buying the product by showing them ads with this very product right inside their Facebook Newsfeed or Instagram.
What does RetargetApp do?
Once you install the app and run a campaign, here's what happens:
A user comes to your website

This user views at least one product and maybe even adds it to cart (viewing will be more than enough, though)

The user then leaves the website without buying anything

Then the user decides to check his/her Facebook Newsfeed on a desktop or mobile device. There he/she will see an ad with a product which he/she previously viewed on your website, accompanied by up to 4 similar products your website offers.

The user is thus urged to click on the ad (which will take him/her right to the product page on your website) and to complete the purchase. Or, at the very least, it will make the user remember about the great opportunity he/she may be missing out on.
Why RetargetApp?
Easy to set up.

 it won't take you more than 5 minutes.

5 different placement possibilities

, including Instagram.

Fantastic reach

. Facebook has over a 1,000,000,000 active users

Positive ad perception – over 3/4 of the users respond positively or neutrally

to the ad of the product they previously viewed.

Great returns. Retargeting is not free, but its relatively low cost is nothing compared to the average 700–1000%

(

based on the experience of RetargetApp users

) return on advertising spend.
Is RetargetApp an answer to all my problems?
Nope. It just saves your time and runs a retargeting campaign for you. You still need to work on the quality of your products, on great product images and incoming traffic to your website. Retargeting is not a panacea for e-commerce, but it makes all your effort worthwhile, as it helps make additional profit thanks to the customers you've re-engaged. So, if you are ready and feel like earning more money, why not try retargeting today? But first, make sure that you are RetargetApp ready.


 You may also want to check out:
Learn how the billing works

What if I just recently opened my website?

Do I need to install a Facebook pixel to use RetargetApp?